Shark Bay is a World Heritage Site located 800km north of Perth in the Gascoyne Region of Western Australia. It is home to one of Australia's most abundant marine ecosystems. The marine life combines the warm tropical waters of the north with the cold waters from the south. There is a huge range of fish species. Shark Bay fishing spots are endless, from shallow sand flats and weedbeds to rocky islands and drop offs.
Shark Bay is regarded as one of the best sports fishing locations in the world. Land based anglers can target Mulloway, Tailor, Whiting, Bream, Flathead, Spangled and Grass Emperor, Trevally and Pink Snapper.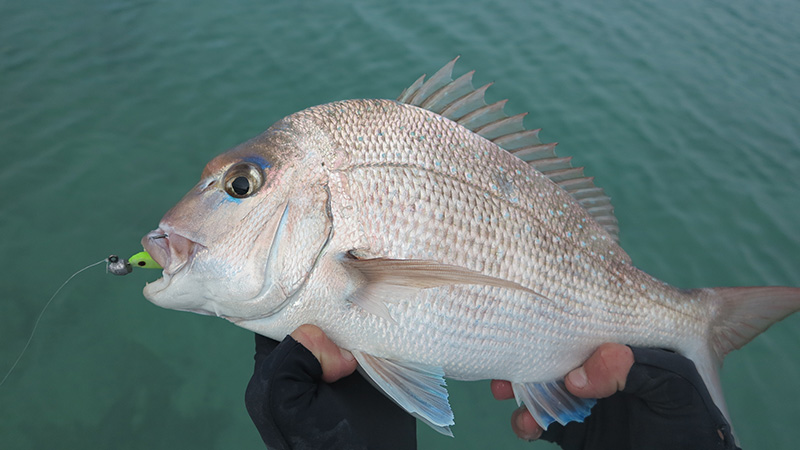 Offshore the options for fishing spots in Shark Bay are massive. It can sometimes to confusing knowing where to fish first. Pink Snapper, Spanish Mackerel, Tuna, Emperors, Baldchin Groper, Tuskfish and larger fish like Cobia and Yellowtail Kingfish make up for most of the catches.
The key to success when fishing Shark Bay, Denham and Cape Peron is soft plastics. Finesse style clear soft plastics work the best in the rich clear waters.
Nanga
At the base of Peron Peninsula is Nanga campground. There is a boat ramp here that provides access to good waters for Pink Snapper and Emperor. From the shores of Nanga Beach anglers can target Tailor, Whiting, Bream and Flathead.
Goulet Bluff
Anglers can access slightly deeper waters from Goulet Bluff for Tailor and Mulloway. Bream, Whiting and Flathead are also abundant.
Whalebone
The shallow waters of Whalebone Bay have Bream, Flathead and Whiting. The odd pelagic and Tailor and also a possibility at dawn and dusk.
Eagle Bluff
Eagle bluff is a great point for targeting Tailor and Mulloway particularly at dawn and dusk. Both fish will come in close to the point in search of food. Bream, Flathead and Whiting are also abundant.
Denham
Denham is a great place to setup a base to explore Cape Peron fishing spots. Land based anglers can target Whiting and Bream all day long from the beach. The Denham jetty is a popular spot and catches of Mulloway, small Pink Snapper, Tailor and Whiting.
The boat ramp at Denham provides smaller boat access to some deep channels where anglers can target Pink Snapper and Mulloway.
Little Lagoon
A few minutes north of Denham is Little Lagoon. The lagoon is home to a huge population of Yellowfin Whiting. Flathead and Bream are also regular catches in the channel that connects to the lagoon and bay.
Monkey Mia
Famous worldwide for dolphins, Monkey Mia is also a great place for fishing. There is access to a deeper channels where anglers can expect Tailor and Mulloway in low light periods. The sand flats are home to Whiting, Flathead and Bream.
The boat ramp at Monkey Mia is a great place to launch the boat and fish for Pink Snapper, Mulloway and Emperor in the Deeper Channels. Check with Fisheries if fishing for Pink Snapper is permitted.
Big Lagoon
Big Lagoon is accessed via a four wheel drive heading north towards Cape Peron. The land based fishing here is exceptional. Anglers can target Flathead, Bream and Whiting all do long, however caution is advised as it is home to lots of stonefish. Tailor are also on offer, the best time to target them is at dawn and dusk.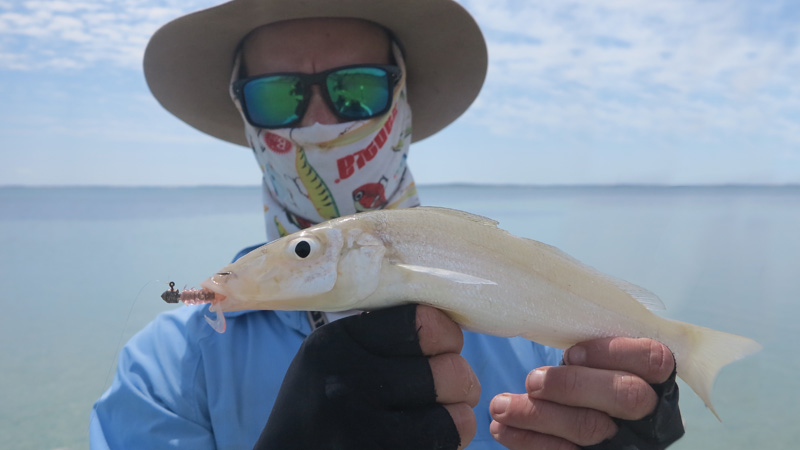 Cape Peron
Accessed via a long rough four wheel drive track, Cape Peron has some fantastic remote fishing. There are several camp grounds along the western side. The land based fishing here is great, anglers can expect Bream, Whiting, Tailor, Tuskfish, Snapper and Mulloway at night.
Gregorys Bay
A fantastic camp spot, the fishing here is also great. The small reef provides shelter and is also full of Bream, Whiting and Tuskfish. Dawn and dusk tailor smash bait fish around the reef. At night Mulloway come in close to the beach for a feed also.