Onslow is a small coastal town located in the Pilbara region. It isn't overly popular amongst tourists because it is located 80km from the NW Coastal Highway. Which is a good thing, as the small creeks only hold a certain amount of fish. Onslow fishing spots are best is in the cooler months as daytime temperatures can be high in Summer, plus the weather conditions are also more favourable in winter for small boats.
The land based fishing spots at Onslow are focused around the small creek mouths, Ashburton River and some limited beach fishing. Most anglers traveling here come with a small boat, which is almost essential to enjoy the fishing at Onslow.
The small creeks and the Ashburton River fishing spots produce Mangrove Jack Queenfish, Trevally, Bream, Flathead, Cod, Javelin and small Threadfin Salmon. Summer is the best time for Mangrove Jack. Beadon Creek is also the best creek close to town for fishing. Along the rock wall is a good spot to target Pelagics and the odd Mangrove Jack.
Offshore, anglers can access more small creeks that fish better than the creeks close to Onslow. The Oakover River, Coorong Creek and Island Creek produce some good Mangrove Jack and Cod fishing. Further offshore under 10km, there are plenty of shoals, reefs and landmarks that produce good fishing for Trevally, Queenfish, Bluebone / Tuskfish, Sweetlip, Coral Trout, Emperor and Mackerel. Soft plastics are the go in the shallow waters off Onslow. Poppers also work well for pelagics out here. The bigger serious fishing is even further out in deeper waters, approximately 20-30km offshore.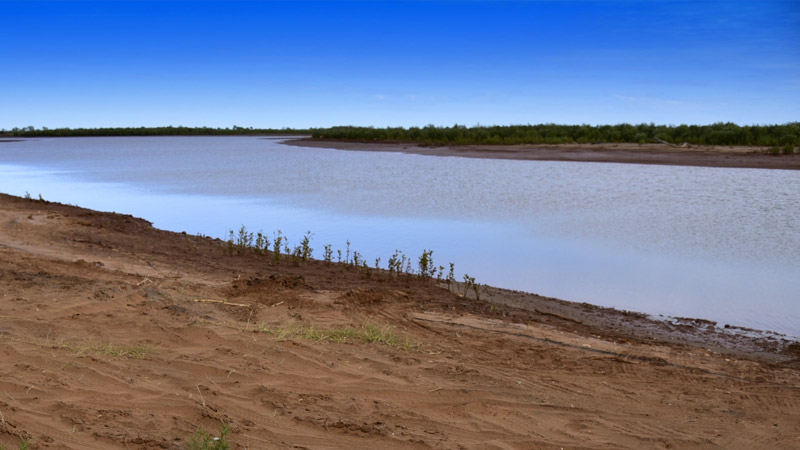 Onslow Fishing Spots
Ashburton River
The Ashburton River snakes east where to turns to fresh water and is made of a series of pools. There are several good camps spots along the river where small boats can be launched. The saltwater section has some good fishing for Mangrove Jacks, Trevally, small Threadfin, Cod and Bream. Hard body lures cast tight into structure is the go for Cod and Jacks. Use deep diving suspending lures tight in the structure. Threadfin Salmon will feed like pelagic fish during spring tides and they can be found small feeder creeks. During the neap tides sound around for the deepest holes of the river and jig the bottom with soft plastics and vibes to tempt the threadfin Salmon as they forage on the rubble bottom. Towards the mouth of the river is the best spot for Trevally and Queenfish, although they are located throughout the river. The odd Barramundi has been caught here also, mainly in summer.
Oakover River
A series of small creeks with shallow entries, be careful not to get stranded in the creek as the tide drops. These creeks hold Mangrove Jack, Bream, Whiting, Cod and Flathead.
 4-Mile Creek / Cooke Creek
A nice spot to cast out a bait, 4 Mile River has small mangrove Jack, Bream, Flathead and whiting.
Beadon Creek
A good spot for the family, the rock wall and jetty provide a good spot for anglers to soak some bait. The Beadon Creek produces Mangrove Jack, Bream, Trevally, Queenfish, Cod and Flathead.
Second Creek / Coorong Creek
One of the better creeks to fish, Coorong Creek is about 4km by boat from Beadon Creek boat ramp. Coorong Creek fishes well for Mangrove Jack, Cod, Bream and small threadfin Salmon. Barramundi are a rare catch here.
Third Creek
Located about 8.5km from Beadon Creek boat ramp Third Creek is well worth exploring. Bigger than Second Creek, fishing here is good for Mangrove Jack, Cod, Threadfin Salmon, Flathead, Bream, Javelin and even the odd Barramundi in Summer.
Island Creek
Located about 11km from Beadon Creek boat ramp, Island Creek holds Trevally, Queenfish, Bream, Flathead, Mangrove Jack, Cod, Threadfin Salmon and Javelin fish. There are many spots to explore here, the small feeder creeks hold threadfin salmon. The shallow flats are good places to target Trevally. The main channel seems to fish the best on an outgoing tide.
Onslow Fishing, is it worth the stop?
It is definitely worth stopping at Onslow, especially if you have a small boat to explore the creeks close by. Onslow fishing is relatively untouched in the creeks both north and south of Onslow. Summer is a great time to visit solely for a fishing trip. While the heat and winds can be a issue, any break in the weather should be taken advantage of, as the Mangrove Jack and big cod really fire up in Summer. Plus there is also the chance at some good Barramundi fishing, particularly during December. Winter is just as good, Threadfin Salmon are usually around the small creek mouths. Once the code has been cracked for the salmon its not unlikely to start landing good sized fish on lures.