Exmouth is a small tourist town and the gateway to Ninagaloo Reef Marine Park. The clear waters are lined with coral reefs and colourful fish. The marine life is massively abundant and a quick snorkel of any of the reefs will reveal just how impressive and healthy the waters are. Only a few kilometers west of Ningaloo Marine Park the continental shelf drops away into very deep waters. Whale sharks, Sailfish, Tuna and Mackerel are all abundant in these waters.
Ningaloo Marine Park has many marine sanctuaries, however land based fishing is allowed along much of the coastline. "Line fishing is permitted throughout the Marine Reserve and can be done from the shore, docks, and boats. We do discourage line fishing from shore and within the lagoon as it removes both juvenile and adult reef dwelling species." Fishing along the western stretch from Ningaloo Homestead to the cape is absolutely fantastic. Inside the Ningaloo Reef the the flats fishing is top notch and popular amongst fly fisherman world wide. The coral heads produce some fantastic fishing also. The fishing spots at Exmouth produce a wide range of tropical species including Coral Trout, Spangled Emperor, Bluebone Tuskfish, Mangrove Jack, Trevally, Queenfish, Bream, Bonefish and Cod.
A small boat does open up the fishing options and the protected waters can be fished comfortably. Inside the reef, boat fishing produces much the same as land based fishing. On the western side of the Ningaloo reef anglers can target, Mackerel, Tuna, Trevally, Cod, Spangled and Red Emperor, Coral Trout, Dolphin Fish, Queenfish and more. Remember any boat based fishing in Western Australia requires a Recreational Fishing License, they can be purchased online from the Department of Fisheries or visit a Department location.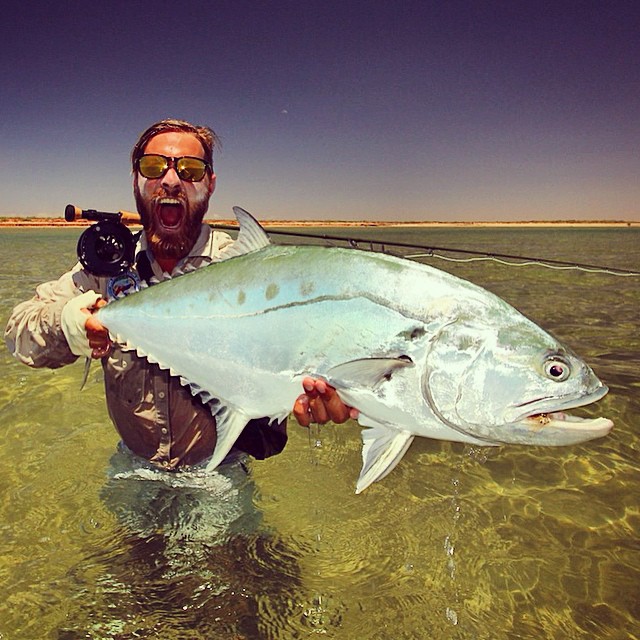 Recommended land based fishing gear for Exmouth
A long beach rod between 2-6kg is great for most species while providing enough sensitivity for small fish. A reel from 2500 – 4000 size spooled with 10-16lb braid should be ideal along the beaches. If fishing some heavier reefy areas the leader must be able to hold up to fish like Tuskies wanting to return to a snag. Soft plastics, poppers and natural coloured hard body lures are the go. Sizes from 8-14cm will cover most fish species from the shores around exmouth.
Ningaloo Homestead
Anglers are required to be camping at the Ningaloo Homestead to fish any of the beaches to the north. South Lefroy Bay has some interesting land marks, where the point comes out to a gap in the reef. Here anglers can expect Trevally and Spangled Emperor. From Lefroy Bay to Winderabandi Point are many good access point to the beach which produce Trevally, Queenfish, Bream and Spangled Emperor.
Point Edgar / Janes Bay
Janes Bay just south of Ningaloo Homestead is within Cloates Sanctuary, however beach fishing is allowed. The beaches here produce some good fishing for Spangled Emperor, Trevally and Bream. Look for isolated reef outcrops and deeper channels.
Point Billie
A beautiful spot to camp, the beaches of Point Billie are lined with reef outcrops just offshore. Anglers can target Trevally, Queenfish, Cod, Bream and Spangled Emperor.
Winderabandi Point
Another beautiful camp spot, Winderabundi Point is in a sanctuary zone however beach fishing is allowed at the time of writing. Please double check fishing is still allowed. The shallow waters are separated by reef outcrops, Bonefish can be found foraging along the sandy bottom. Trevally and Queenfish come in close to smash bait fish. Cod and Bream hang around close to the reef structures.
Sandy Point / Bundegi
Bundegi is a natural boat harbour for small boats and offers good protection from swells. Sandy point itself offers good fishing for Trevally and Queenfish. The odd Spangled Emperor are also caught here.
Yardie Creek
Yardie Creek is at the end of Cape Range National Park. Fishing is allowed north from the beach north of the creek. Anglers can target Cod, Bluebone, Coral Trout around the reefs. Trevally and Queenfish also lurk around the reefs and beaches.
Sandy Bay
The clear shallow waters of the beach allow anglers to sight cast for Bonefish and Trevally. If there are swimmers here perhaps look for a different spot.
Pilgramunna
A good rocky platform where anglers can target Bluebone Tuskfish, Spangled Emperor, Coral Trout and the odd Mangrove Jack. Also great snorkeling.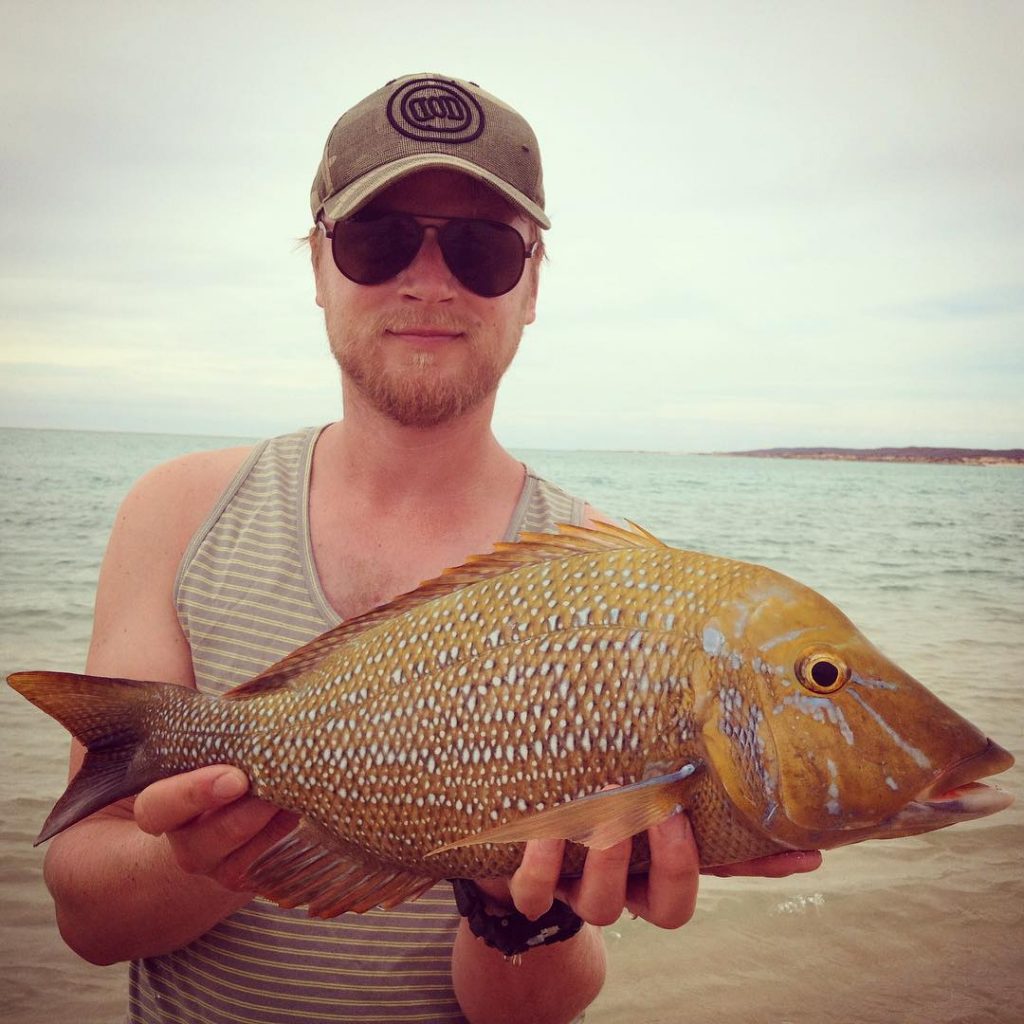 Mesa Camp
Mesa Camp has a good point for targeting Spangled Emperor, Trevally and Cod.
Vlamingh Head
Vlamingh Head is best fished on high tide. Anglers can expect Spangled Emperor, Bluebone Tuskfish and Trevally.
Oyster Reef
Oyster Reef fishes well for Trevally and Queenfish. The deeper water is further south east of the Mildura Wreck.
Exmouth Beach
The beaches to the east of Exmouth produce some good fishing for Whiting, Bream and the odd Trevally.
Exmouth Marina
The Exmouth Marina is a great spot to target Mangrove Jack on lures around the pylons during summer. Giant Herring have also been caught from the rocks. Queenfish, Trevally and Mackerel also hang out around the Marina rock walls and will all take lures.
 Exmouth South Beach
South of Exmouth the beaches produce Whiting, Bream and Trevally. The spots along here offer peace and quiet and it is possible to go a day without seeing another person.
End of the Reef
The end of the reef here is a good spot to fish on both incoming and outgoing tides. Trevally, Queenfish and the odd Threadfin Salmon particularly if there is murky water around.
Wapet Creek
Wapet Creek can be accessed via four wheel drive from the beach north of the Learmouth Airport. In the creek are Mangrove Jacks and Bream. The odd Threadfin Salmon mainly when the creek is open to the ocean.
Bay of Rest Creek
Land based access is difficult, but it I well worth the drive. Anglers can target Mangrove Jack, Bream, Flathead, small Trevally, Queenfish and Threadfin Salmon.
Offshore Fishing Exmouth
A small boat creates endless fishing spots around Exmouth. Inside the reefs anglers can fish around reef areas for Coral Trout, Spangled Emperor, Tuskfish, Trevally and Queenfish. Soft plastics are the go inside the reefs, cast out and slow bottom bounce them back in. Poppers also work well around the reefs for Emperor and pelagics. The outgoing tide is the best time to cast poppers towards draining reefs.
On the western side of the reefs, small boats can easily navigate through the gaps in the reefs on calm days. The best methods out here are trolling which produces Mackerel, Dolphin Fish, Tuna and Cobia. Bottom bouncing likely looking bottom changes or sounded fish can produce Red Emperor, Spangled Emperor, Cobia, Pelagics, Coral Trout and Tusk fish.