Margaret River is a beautiful small town approximately 300km south of Perth. Famous for its surf breaks and wine, the Margaret River area also produces some fantastic fishing. Here is your guide to Margaret River fishing spots.
The Leeuwin-Naturaliste National Park surrounds Margaret River, from Cape Naturaliste to Cape Leeuwin there are many great fishing spots to explore, anglers can expect Tailor, Mulloway, Herring and Australian Salmon from the beach. There are several small river inlets worth exploring for Black Bream, upstream Margaret River can produce some good fishing. Fishing from a boat offshore can be very hazardous with massive seas often battering the coastline, however when conditions are good anglers can target Queen Snapper, Pink Snapper, Harlequin, Samson Fish, Blue Groper and Dhufish.
Where to fish at Margaret River
Sugarloaf Rock
Sugarloaf Rock is a great fishing spot accessible for all vehicles, but should only be fished in calm conditions. Fishing at Sugarload Rock anglers can target Yellowtail Kingfish, Samson Fish, Bonito and Southern Bluefin Tuna. Australian Salmon also turn up around Autumn, all fish will take lures cast from the rocks.
Yallingup
Yalling is a great fishing spot with easy access for the beach where anglers can target Australian Salmon and Herring in Autumn, Mulloway in winter, tailor during summer and skippy and herring year round. Yallingup offers great, affordable accommodation at the Caves Caravan park.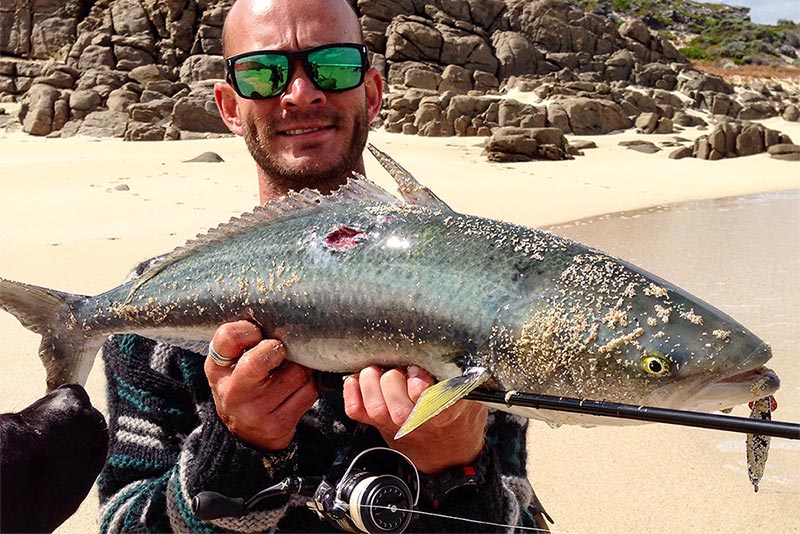 Torpedo Rocks
Torpedo rocks can be a dangerous fishing spot, however during calm seas produces Salmon and Herring in Autumn. Other species can include Pink and Queen Snapper, Samson fish and the odd Dhufish. There are several hook points available for anglers to tie onto.
Smiths Beach
Smiths Beach produces some good fishing during Autumn for Australian Salmon. Fishing at Smiths Beach can also produce Mulloway in Winter and Big tailor in summer, Skippy, Herring and Whiting are also on offer.
Canal Rocks
Canal rocks provide sheltered conditions for rock fishermen, and also provides shelter for Australian Salmon during Autumn as they migrate north. This is a great time to fish for Aussie Salmon on lures.
Canal Rocks Boat Ramp
Sealed road to boat ramp and cement ramp, relatively sheltered from swells.
Canal Rocks Offshore
Offshore from Canal Rocks produces great fishing for Dhufish, Pink Snapper, Queen Snapper, Bonito, Blue Groper and Bluefin Tuna. 
Wyadup Rocks
Great fishing for Bonito, Southern Bluefin Tuna and Australian Salmon (during autumn), cast lures like metal slugs and sinking sticks baits from the rocks.
Injidup Point
Can be dangerous during large seas, fish with caution for Herring, Skippy, Australian Salmon, Tailor and the odd Mulloway.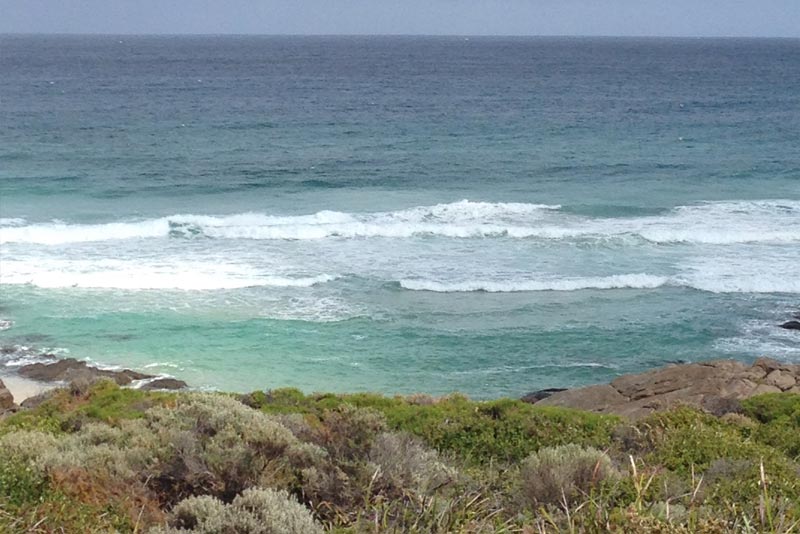 Moses Rock
Four wheel drive access and a long walk, Moses Rock is a great fishing spot that produces Herring, Tailor, Skippy, Mulloway and Australian Salmon during their migration in Autumn.
Cowaramup Bay
Good beach fishing for Whiting, Skippy and Herring. The Point produces Salmon, Skippy, Herring and the possibility of the Samson Fish.
Cowaramup Bay Boat Ramp
Beach launching of small boats during calm conditions only.
Cowaramup Bay Offshore
Great offshore fishing in Cowaramup Bay for Dhufish, Pink Snapper, Queen Snapper and Blue Groper, anglers must remember check the weather and boat with caution as swells can break on reef unexpectedly.
Margaret River Mouth
The mouth of the river fishes well for Mulloway, Tailor, Herring and Australian Salmon during Autumn.
Margaret River
Margaret River fishes fairly well for Black Bream around the snags, further upstream is the better, and it is best fished from a boat as land based fishing can be difficult.
Redgate Beach
Good beach fishing for Australia Salmon, Herring, Tailor and the odd Mulloway which are best targeted at night.
Boranup Beach
Good fishing for Australian Salmon from late Summer to Autumn. Boranup beach fishing also produces Herring, Tailor and Mulloway in the deeper channels.