Port Smith Fishing
Approximately 160 kilometres south of Broome, with 23km of maintained unsealed road is the beautiful camp spot of Port Smith. Port Smith caravan park as modern facilities and offers camp spots for caravans, tents and cabins. The small store here also have fuel, diesel, bait, ice and some general fishing tackle.
Land based fishing Port Smith
Port Smith fishing produces some great catches both land based and by boat. There are many tracks heading both north and south for anglers to explore. To the north are some good headlands which produce Trevally and Queenfish on high tide. To the north a track also head arounds to the mouth of the inlet, here anglers can fish the flats for Trevally or soak a bait in the deep hole Threadfin Salmon, Mangrove Jack, Cod, Bream, Whiting, Flathead and Barramundi. Along the beaches land based anglers can catch a good feed of whiting. Talk to the park owners before venturing around and care should be taken while driving the tracks as the sand can be soft in some spots.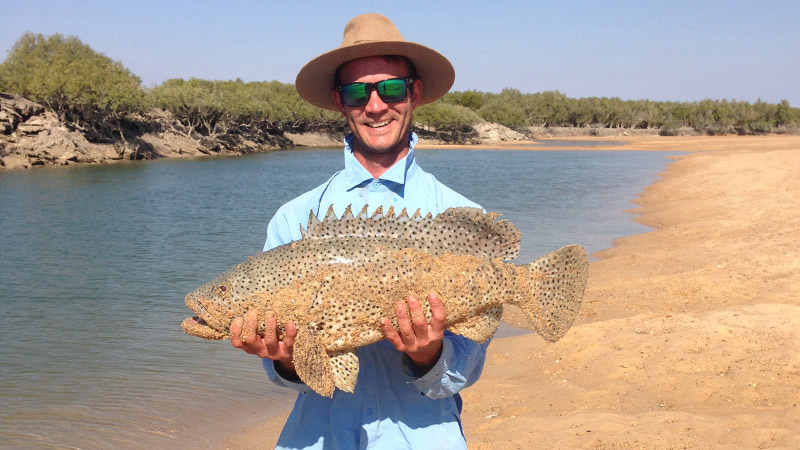 Access to False Cape Bossut is sometimes permitted however rules change, talk to the Port Smith park owners for further information. False Cape Bossut Creek is a rocky creek that holds Mangrove Jack, Cod, Bream, Flathead and Trevally. Around the mouth there is Tuskfish and Queenfish, it is well worth the drive. It is approximately 13km by boat from the Port Smith boat launch.
Boat based fishing Port Smith
There is a protected boat launch suitable for boats up to 6m during the top of the tide in the Port Smith Lagoon. There are several good holes in the lagoon which are worth fishing particularly during neap tides. Jigging soft vibes or plastics on the bottom is a good way to find out if Threadfin Salmon are around. Upstream at the deepest holes and snags hold Mangrove Jack and Cod, it worthwhile working lures along a set of snags. Checkout google maps to see the deeper holes and target these areas with lures.
Port Smith entrance channel is lined with rocks, here Tuskfish lurk around the rocks. They can be targeted on boat mostly and they will smash crab baits. Around the mouth of the river has generally clear shallow waters where anglers can spot Trevally and Permit crusining. Fly fishing here can be great for the patient angler.
Offshore from Port Smith to the north is a series of good reef structure that holds Coral Trout, Tuskfish and Grass Emperor. These spots are well worth fishing and fish will take soft plastics and vibes worked along or beside the reefs.
To the south is False Cape Bossut and False Cape Bossut Creek, it is approximately 13km by boat. There is some great fishing here around the headland and mouth of the small creek. The rock areas hold some big Tuskfish which will take bait such as crabs and prawns. The spear fishing here is also good. The reef to the west of the cape is also good fishing.
Heading west – north west of Port Smith is Justice Shoal, approximately 15km offshore, here the reef fishing starts to get good. Anglers can expect Tuskfish, Grass Emperor, Coral Trout, Trevally, Queenfish, Cod, Mackerel and the taxman (sharks).