How do I download GPS marks?
GPS marks on Fishing Spots are provided as a paid item… Yeah we're sorry, but fishing spots has been built by a small number of people, in their spare time, with countless hours of coding, writing, researching and not enough fishing! We hope you understand.
The only way to download GPS marks is too sign up, create a Trip, then start adding spots to your trip. The best way to do all of this is via the main map page here.
Once you have signed up and logged in you can start adding GPS marks to a Fishing Trip.
1. Sign up with Fishing Spots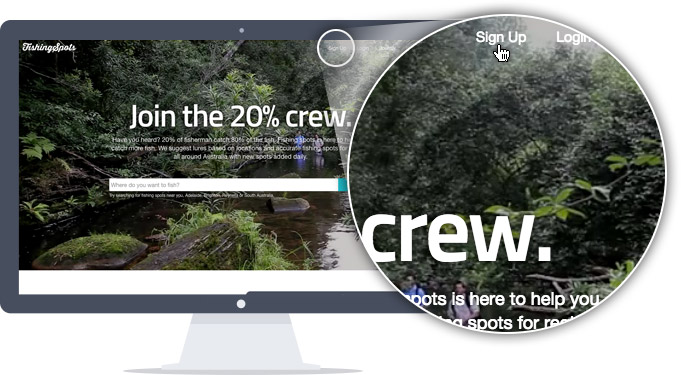 Click the signup button on the home page. Then either sign up with your email address or with your Facebook account.
2. Create a Trip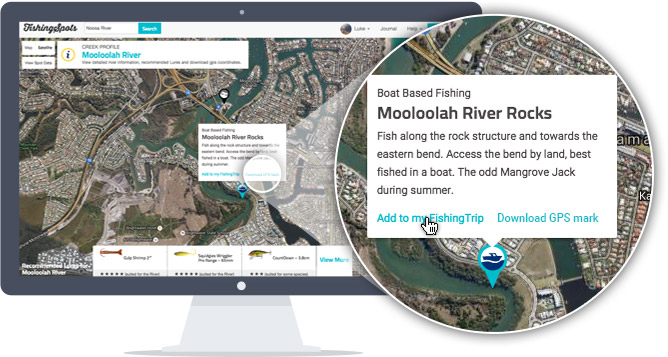 Browsing around the map, select a marker you want to download. Then click on Add to my FishingTrip. A popup will appear, this is where you can create your first Trip. Click on Create New Trip. 
Now give the trip a name and click Create New Trip. A trip will be created and the spot you selected will be added to the Trip!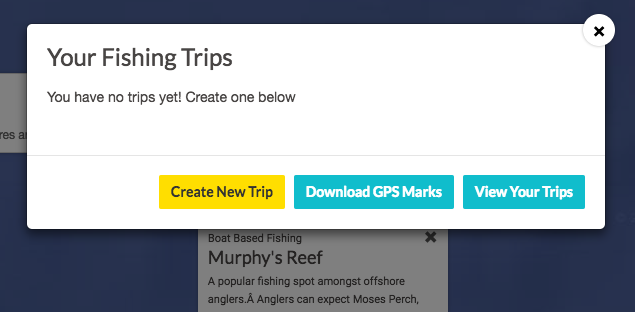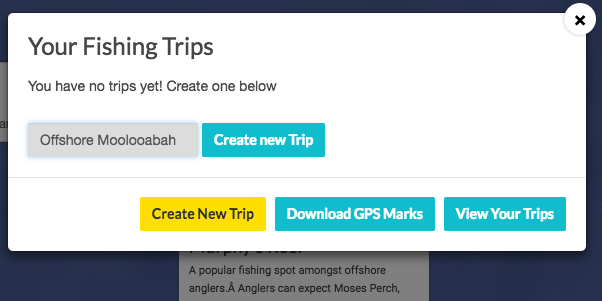 3. Start adding spots to your Trip
Continue browsing the map and adding spots to your trip by selecting the map marker, then select Add to my FishingTrip, then select Add Spot to this Trip beside the trip you want to add GPS marks too.

4. Download GPS marks from your Trip
Fishing Spots GPS marks can be downloaded from only one place, via the Trip you created. Once you've finished adding GPS marks to your trip, go to your Dashboard, via either the top menu or select Download GPS marks from the popup.


On the Dashboard page you can see your Recent Fishing Trips, and Download GPS Marks beside your Trips. Select Download GPS Marks.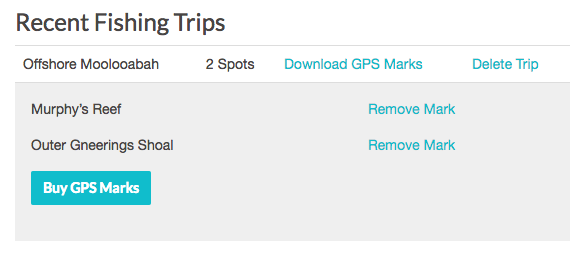 Now select Buy GPS Marks. This will take you to the Checkout page, where you can purchase your Trip. GPS marks are charged at $0.50 each. The download file is provided in KML format.
5. Convert Fishing Spots GPS marks for your GPS compatible Sounder
We are still working on a user friendly solution to upload GPS marks into Humminbird, Lowrance, Garmin and Simrad sounders.
Help! Its not working.
Don't stress, if you've purchased GPS marks, can't purchase GPS marks or the website is just f#%$# then please email admin @ fishingspots.com.au and we'll do what it takes to make you happy.
We really hope you enjoy the website and your feedback is extremely important to us. Our primary goal is to help anglers find some good spots to go fishing or.. for advanced anglers, give you a good place to start fishing on your travels.